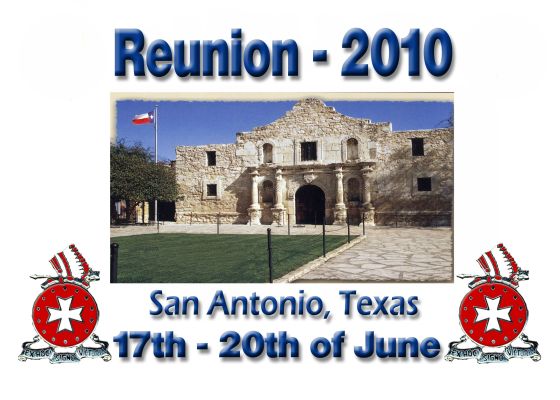 The 14th Field Artillery Regiment Association will hold its next reunion in
San Antonio, Texas, 17-20 June 2010
REGISTERED ATTENDEES:
Roger and Marty Bernardi

Bonnie Bressman

Jeannie and Eddie Carvajal

Humphrey and Pearl Chai

James and Sandra Denham

John Eno

Wolfgang and Erna Fleischer

Jerry and Shirley Goos

Dave Hetz

Bill and Patti Holmes

Roy and Edie Huff

Doug and Gayle Iserman

Ron and Loretta Keown

David and Debbie Laukat

Loren Lundquist

Charles and Carleen Maldonado

David and Jean McMillan

Morris Newcomb

Dennis Proulx

David and Judy Ryan

Ed Sartain

Michael and Diane Schwank

James, Cynthia, and Gregory Scott

Clem and Hanna Smiley

Bob and Lynnis Sorenson

David and Linda Termin

Frank and Stephanie Thompson

Rex and Barbara Weaver

(As of 19 May 2010)
HOTEL INFORMATION:
La Quinta Inn & Suites — Downtown

100 W. Durango Blvd.

San Antonio, TX 78204

Phone: 210-212-5400

RESERVATIONS: Attendees should call Annette Mendiola, the Director of Sales at the La Quinta Inn in San Antonio at 210-212-5400, extension 1715 to make hotel reservations. Indicate you will be attending the 14th Field Artillery Regiment Association Reunion, June 17-20. If Annette is not available, you may call her cell phone at 210-618-1006.

Reservations must be guaranteed with a major credit card or a first night's deposit.

RATE: $90.00 per night for single or double occupancy. Local Occupancy Tax of 16.75% will be added. Reunion rate is good for 3 days prior to the Reunion and 3 days after the Reunion (14 - 23 Jun 2010).

ARRIVAL AND DEPARTURE TIMES

Check In: Anytime after 3:00pm

Check Out: Not later than 12:00 noon

SMOKING RESTRICTIONS: La Quinta Inn & Suites — Downtown is a smoke-free environment. Smoking is not permitted in any function area or public space. Smoking is permitted in designated outside areas only.
ACTIVITIES:
There are many things to do and places to see in San Antonio...

— Visit the Alamo

— Take a stroll or ride on the Riverwalk

— Shop at the Rivercenter Mall or take in a movie at the Imax Theater inside the Mall

— Shop at the Market Square for items from Mexico

— Take a ride up the Tower of the Americas glass elevator for a bird's eye view of San Antonio

— Take a trolley ride to the missions of San Antonio
MENUS:
Two meals will be served as part of the Reunion activities. Please pre-pay for these meals when you register for the Reunion.

(If you have a special dietary need, request or concern about the meals, please contact Roy Huff.)

Thursday, June 17, 1900 hours

Schilo's Delicatessan

$18.00 per person

Wienerschnitzel (breaded pork loin)

Sauerkraut

Potatos

Salad

Apple Struessel ala Mode

Iced Tea

Saturday, June 19, 1900 hours

Catered by Grady's Bar-B-Q at the Hotel

$13.50 per person

3 Meat Plate (chicken, beef brisket, sausage)

Pinto Beans

Potato Salad

Cole Slaw

Pickles

Onion

Bread

Assorted Pies

Iced Tea