20 Dec 2011: We are pleased to welcome our newest annual member, Jerry Del Pino, 1st Battalion.
20 Dec 2011: A picture of the 14th Field Artillery in Normandy in 1944 has been added to the 4th Battalion Page.
16 Dec 2011: Charlie ("Tuna") Sandross passed away on 12 Dec. Charlie was assigned to the B/6-14 FA FDC at Ben Het in 1969-70. Services will be held 19 Dec at 1100hrs at the Windwood Presbyterian Church, 10555 Spring Cyprus Rd in Houston, TX.
The Association sends our condolences to his wife, Faith, and family.
02 Dec 2011: Services for Charlie Maldonado were held at the Fort Sam Houston National Cemetery in San Antonio, TX. David Laukat, Roy Huff, and Clem Smiley represented the Association.
Also, a fitting tribute to Charlie is on the 6/14 Arty site at http://www.614arty.org. Patrick Kelly invites everyone to pay a visit.
26 Nov 2011: The Association welcomes our newest Life Member, James Chin, 4th Battalion.
26 Nov 2011: Graveside services for Charlie Maldonado will be held at 1400 hours on Friday, 2 December 2011, at the
Fort Sam Houston National Cemetery in San Antonio, TX.
20 Nov 2011: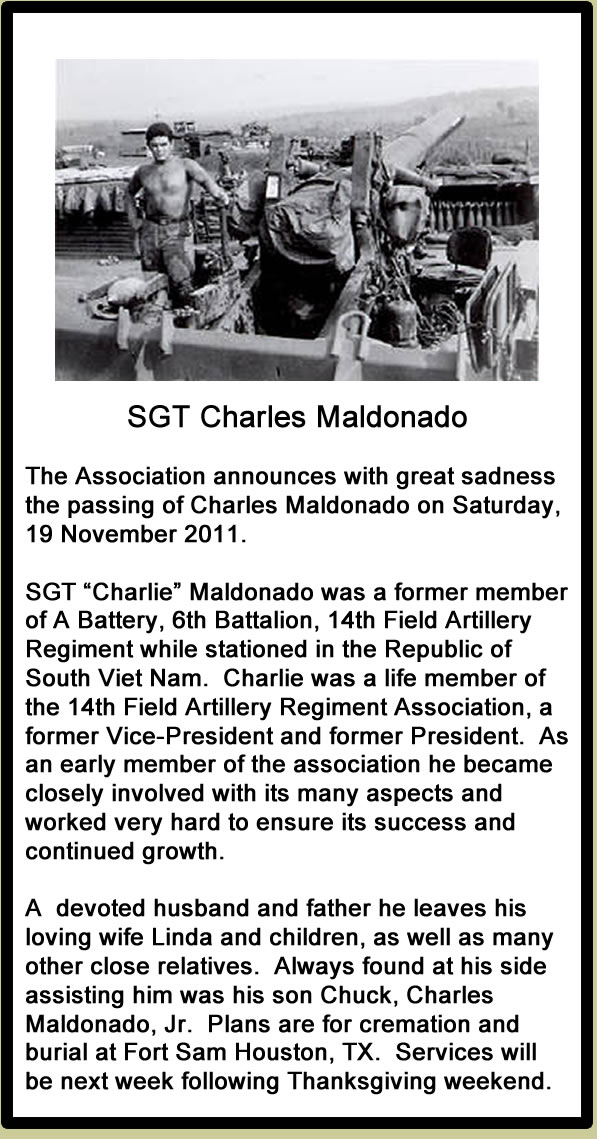 15 Nov 2011: A request received from Kim Scales, Decatur, AL:
"I am looking for anyone who knew my uncle Douglas Everett Boyd, from Corinth, MS. Died 10/08/1970 in Chu Lai, Quang Tin Province, South Vietnam. He was with HHB 1st Battalion 14th Artillery. Any information, pictures, anything would be greatly appreciated. I really don't know anything about him, and have only ever seen 1 or 2 pictures.
"Thank you for any help you can give me."
Kim Scales
Kim.Scales@toraycfa.com
11 Nov 2011: Announcement for the 214th Fires ("Leaders") Brigade Holiday Run/Walk on 23 Nov at Fort Sill.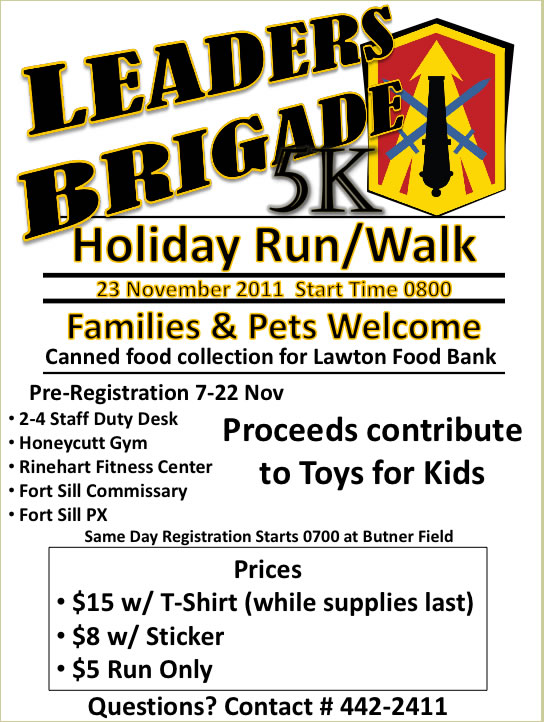 03 Nov 2011: Several news articles regarding the Soldiers of 1-14 FAR are posted on the Steel Warriors page
07 Oct 2011: IMPORTANT SOCIAL SECURITY INFORMATION FOR VETERANS.
You qualify for a higher social security payment because of your Military service, for active duty any time from 1957 through 2001 (the program was done away with 1 January 2002). Up to $1200 per year of earnings credit credited at time of application - which can make a substantial difference in social security monthly payments upon your retirement. You must bring your DD-214 to the Social Security Office and you must ask for this benefit to receive it!

Soc Sec website:
http://www.ssa.gov/retire2/military.htm
It is NOT just for retirees, BUT anyone who has served on active duty between 1 January 1957 to December 31, 2001.
17 Aug 2011: Two 1st Battalion events at Fort Sill -- B Battery Change of Command ceremony and C Battery deactivation. Pictures are posted on the Steel Warriors page.
07 Aug 2011: Neal Schwartz has provided an article from 1968 regarding the 4th Battalion Change of Command ceremony. See the 4th Battalion page.
31 Jul 2011: Pictures from Vietnam provided by Joe LaPorte have been posted to the 6th Battalion Reflections page.
25 Jul 2011: An invitation from the Soldiers of Bravo and Charlie Batteries, 1st Battalion, to the Association: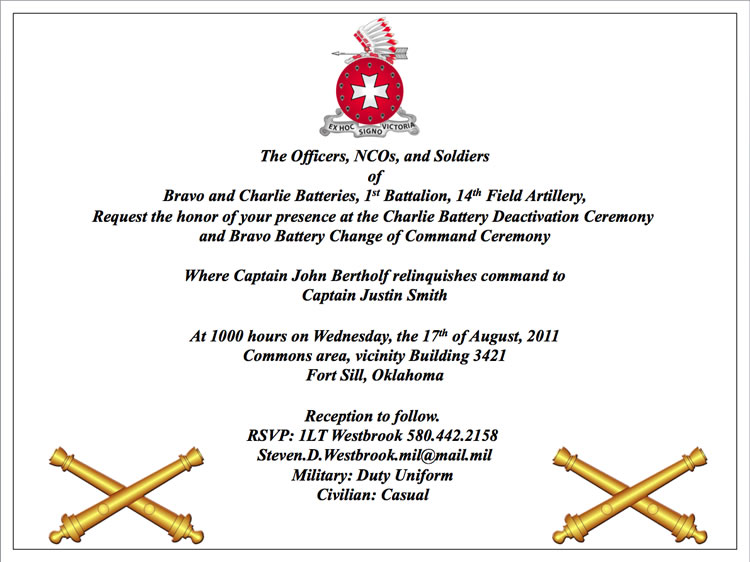 14 Jul 2011: Articles about activities by 1st Battalion 14th Field Artillery Soldiers at Fort Sill have been posted to the Steel Warriors page
20 Jun 2011: Photos of 2nd Battalion's move from Montieth Barracks to Merrill Barracks in 1968 have been posted to the 2nd Battalion Reflections page.
09 Jun 2011: The Association has received word that Sherman Loy passed away. We send our condolences and prayers to Sherman's family.
04 Jun 2011: Charlie Battery, 1-14 FA is having their annual reunion in Billings, Montana, 23-25 June. Point of contact is Clarence Marrs, Association Vice President, at 918-839-9299 or 918-647-5782.
08 May 2011: We have a new source for regimental patches.

Campaign Casuals has created a patch for the 14th Field Artillery Regiment. For ordering information, visit the Campaign Casuals website and type in "14th Field Artillery" in the search field.
23 Apr 2011: We're on Facebook! Click here to visit the 14th Field Artillery Regiment Association Facebook page. While you're there, click "Like" to receive all future announcements on our Facebook page.
13 Apr 2011: Jimmie Frazier, a former member of Charlie Battery, 1st Battalion, 14th Field Artillery, passed away on 12 April in Springfield, MO. Jimmie will be honored at a graveside service at the Missouri Veterans Cemetery in Springfield. The date of the ceremony has not been announced. If you are interested in attending you may contact Jimmie's daughter Jaimie at jaimiefrazier@yahoo.com or by calling her at 417-766-4945. An obituary will be published on the Springfield News-Leader website, www.news-leader.com.
The Association sends its condolences and prayers to Jaimie and Jimmie's family.
24 Mar 2011: Alpha and Charlie Batteries, 1-14 FA have completed extensive training at Fort Bliss, Texas, and have returned to Fort Sill. LTC Rob Picht, Battalion Commander, reports:
"We've safely returned from our off post training event at Fort Bliss and just completed our Recovery inspections. It was a great training opportunity for the Steel Warriors; CSM Carr and I are very proud of the performance put forth by the Steel Warriors. It was truly a team effort. During our training at Fort Bliss we drove over 1400 miles (which included the convoy to/from Fort Sill-Bliss) conducting 16 ranges, which included small arms, machine gun and convoy live fire ranges and fired over 200,000 rounds of blank and live ammunition. We also fired 36 reduced range practice rockets (RRPR) as part of Artillery Table certifications with Alpha and Charlie Battery."



See articles from the Fort Sill Cannoneer on the Steel Warriors page.
10 Mar 2011: The 14th Field Artillery Regiment Association website has been selected as one of 20 patriotic websites by VA Home Loans.
28 Jan 2011: David and Debbie Laukat represented the Association at the 214th Fires Brigade St. Barbara's Day Ball at Fort Sill. Picture are on the Steel Warriors page.
26 Jan 2011: Bob Lund provided a picture from the 1st Cav reunion in June 2010. Go to the Regimental Moments page.
24 Jan 2011: A message from John Mendyk:
Hi, My name is John Mendyk and I served in Viet Nam Feb.67, Feb.68 I was the #2 man in the 1st gun section (175 ) Battery A 14th Artillery 1st Field Forces. Looking for my old buddies Pat Burke, Sgt. Dillard, James Northern, Johnny Cagle and any the guys that may have served with me. Capt. Miller was our 2nd LT. and I will never forget the Tet when we shot direct fire. Hope all is well with all my old friends.
16 Jan 2011: A message from John Ziska:
I am searching for a photograph(s) and anyone who may have served with and additional information for PFC Richard Edward Tamer, C Btry, 6th Bn, 14th Artillery, 52 Arty Group, I Field Force, USARV, KIA 5/21/1969.
Richard Tamer was the guitar player in my high school band (Parma Senior High School) in 1963.
FYI - I served in the 19th Engineer (Combat) Battalion, 18th Brigade, 45th Group in Qui Nhon & Bong Son, Viet-Nam. My time was Sept 1966 - Sept 1967.
I was one of the fortunate who returned home.
Any help or assistance you can provide would be greatly be appreciated.
Welcome Home !!!
Best regards,
John C. Ziska
E-Mail: johnz442@oh.rr.com
440-781-0456 Cell
3 Jan 2011: The Association has received the following message from William Van Cook:
"
My brother 2nd Lt Donald Van Cook C Bat 6th Btln 14th FA was killed on June 4 1969, apparently by rocket or mortar fire. I am looking to correspond with anyone who knew Donald and can shed any light on his time in VietNam.
Thank you all for your service."